Now that you have gathered your supplies and prepared your project the fun can begin! This lesson will show you how to read a cross stitch pattern. 
A Cross Stitch Pattern is a grid made up of tiny squares, each square on the grid represents a square of aida fabric. Grid lines are usually darker and divided into in 10 x 10 sections (3).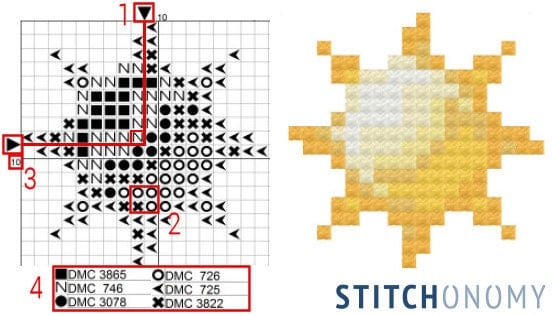 This sun pattern is free! right click to download.
All the information you need to stitch your project is in the pattern. 
The first step is to find the centre of the design. That's where you will start stitching to make sure you don't run out of fabric on any of the sides. Follow the arrows at (1), where they intersect is the centre point.   
The squares on the pattern correspond to the squares on the fabric. Each square with a symbol equals one stitch, so (2) contains four stitches in three different colors. 
The thread legend (4) in the pattern shows the symbols which correspond to each color. 
The most common stitch on your pattern is the cross stitch. Where the square on your pattern contains a symbol taking up the full square, a full cross stitch is required. 
The second most common stitch is the back stitch. Back stitches are mostly used for outlining or text. When a square contains a straight line a back stitch is required. 
Less common stitches are fractional stitches: half stitches, quarter stitches and three quarter stitches. 
TIPS
Counting errors happen, but take a lot of work to make right. To prevent errors, mark the squares you have stitched by blacking them out on the pattern. 
Try to avoid starting a color too far away from the stitched area, it's easier to count when you have finished stitches as a reference.